Below is a head study of our beautiful Gigi, bred at Ravensett (but under the Grakar Affix of Karen, Graham & Zoe Stirk, who kindly allowed her Dam Ravensett Royal Diamond for Grakar back to us for a second litter). Gigi is co-owned with the Stirks and is now maturing nicely and making her mark in the show ring.
Grakar Gigi at Ravensett (Swannery Valentino's Legacy to Caspellwynd x Ravensett Royal Diamond for Grakar)
And also below is a further photo of Gigi, taken in April 2015 at the English Setter Society of Scotland (ESSS) Championship Show, where she won both the Junior and Novice Bitch classes.
BELOW Introducing Brucelm Tangerine Dream. Also bred at Ravensett, but with Rosemary Davies & Bernard Jeffery's Brucelm Affix to his name Tango has now moved to live back with us permanently. Jointly owned between Sharon, Rosemary & Diane Bridgewater he is now just starting to mature well and at the April ESSS Championship Show fulfilled that promise to win the Reserve Dog Challenge Certificate.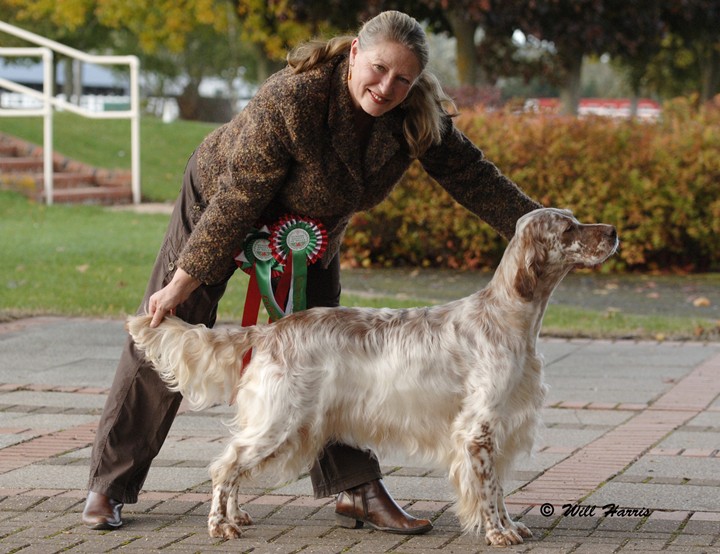 Sh Ch Ravensett Blondie
ABOVE Although retired from the main English Setter show ring, once she has recovered from her recent litter, we hope to show Blondie again in the future in Champion Stakes classes at a select number of Championship Shows.