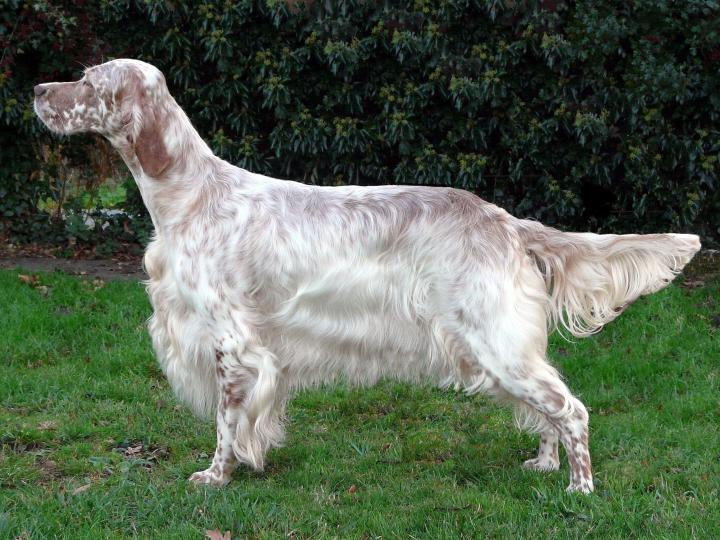 2015 NEWS
RAVENSETT IS PROUD TO ANNOUNCE A BEAUTIFUL LITTER OF PUPPIES
Finally we decided to mate our gorgeous Orange Belton girl Sh Ch Ravensett Blondie (photo above), Top Winning English Setter of 2013, to a very handsome young man Dyrham Diversity at Redhara (photos below), otherwise known as Travis.
(Above & Below) Dyrham Diversity at Redhara, sire to the litter by Blondie
2014/2013 NEWS
2014 was a quiet year for the Ravensett kennel. Sh Ch Ravensett Blondie gained some further wins early in the year but after Crufts we decided that the time was right to retire her from the show ring. Because in 2013 she had continued on from her superb 2012. She went on to win a further 7 CCs and 6 RCCs to become the DOG WORLD/ARDEN GRANGE Top English Setter of 2013. We have therefore taken the decision to retire her at the top. She may however be shown occasionally in Champions Stakes classes at selected shows. Not to be outdone, Ravensett Jailhouse Rocks Alolfran became a Show Champion at just 19 months of age during 2013, following on from his Top Puppy in Breed 2012 award. He continued to win well in 2014 himself, gaining further CCs to add to his tally.
2012 NEWS
What a great year we had in 2012.At just over 3 years old Blondie became our 11th home bred Show Champion and after a phenomenal second half of the year she finished 2012 with a remarkable 13CCs, winning 11 in the year and becoming the top winning English Setter bitch of 2012. With BISs at both the Midland English Setter Society Championship Show and the English Setter Society of Wales' Championship Show earlier in the year she then won a further 9 CCs from June to November including a fantastic Group 2 win at the South Wales Gundog Championship Show. Not only this, but Blondie's young nephew Ravensett Jailhouse Rocks Alolfran (photo below), Elvis to his friends, stormed into 2012 to win Top English Setter Puppy for the year.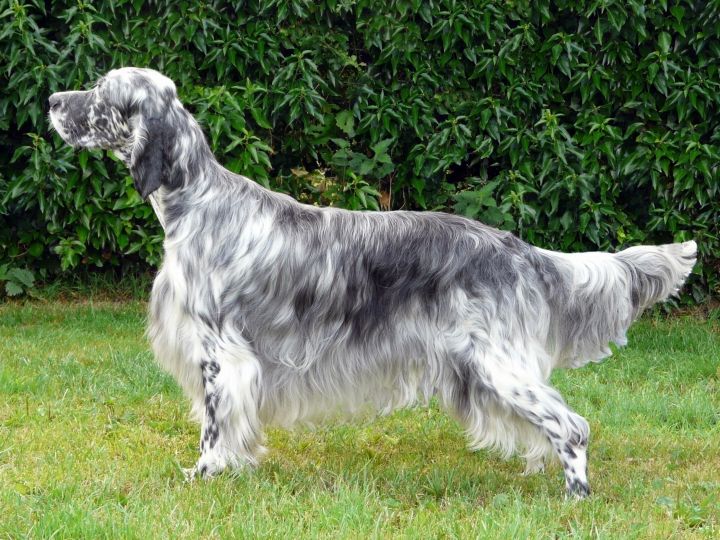 2011 NEWS
After a rest from the show ring to get her coat back Blondie returned in June and had a fabulous second half of the year. Gaining 12 first places from just 14 shows she ended the year with 1 BOB, 2 CCs and 4RCCs and all with her still only just over 2 years of age. The photo above was taken in October 2011. 2010 NEWS 2010 was another great year for the Ravensett kennel, with Ravensett Blondie taking the show ring by storm, amassing 8 Best Puppy in Breed awards at Championship Shows over the Spring/Summer. These included Best Puppy in Show awards at both the English Setter Association and the English Setter Society of Wales Championship Shows. Once out of puppy she gained her junior warrant title with a final point at the Midland English Setter Society Open Show in the Autumn. She will now take a well earned rest in 2011 to further mature until shows in the second half of the year.