The Ravensett kennel was founded in the late 1970's initially with a small successful kennel of Irish Setters. However, it wasn't long before English Setters joined the show team and the kennel went from strength to strength. The foundation for the English Setters came from the top winning Upperwood kennel and this has proved to be an excellent base for the continued success of the Ravensett Affix. To date the kennel has produced 10 homebred Show Champions or Irish Show Champions as well as many more top winning stock with CCs and Reserve CCs to their credit.
This page is dedicated to Upperwood Lavender Blue at Ravensett (1989 to 2003), seen above at the age of 13. 'Dilly' had a long and happy life with us and we are indebted to her as she was the foundation of all our current show stock. She was top brood bitch in 1997 (James Wellbeloved/Our Dogs) and shown on this page are two of her winning progeny sired by Kenandra King of Romance, Sh Ch Ravensett Romance, 'Romance' and Sh Ch Ravensett Regalia, 'Susie'. She had a beautiful nature, which she has certainly passed on down the line. She is still very sorely missed by all. Sharon awards Challenge Certificates in both English and Irish Setters as well as judging all other Gundogs at Open Show level. She has also judged in Finland, Sweden and Estonia.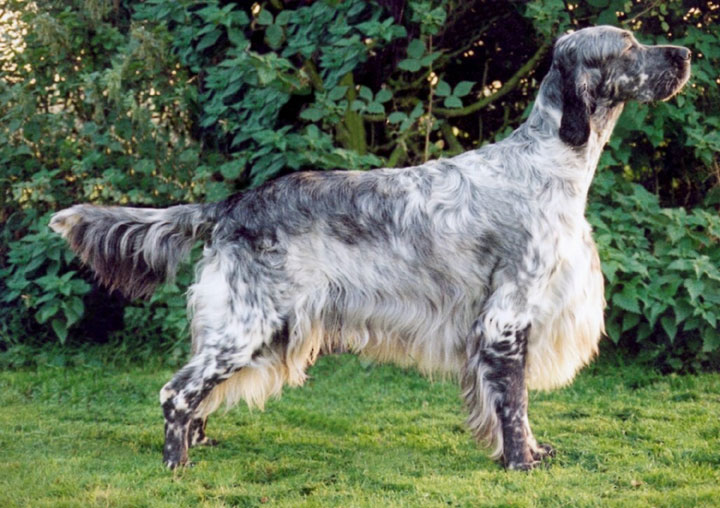 Above is a great photo of Sh Ch Ravensett Versace taken when he was just over 2 years old. 'Dion' was Top English Setter Puppy in 2000 and had a short but very successful show career. He decided that the settee was much more pleasurable than travelling to shows. He tragically died in his sleep back in March 2009, but will always remain in our memories. He had the most fantastic temperament and was and absolute pleasure to live with. He always loved it when visitors called. More laps to rest his head on!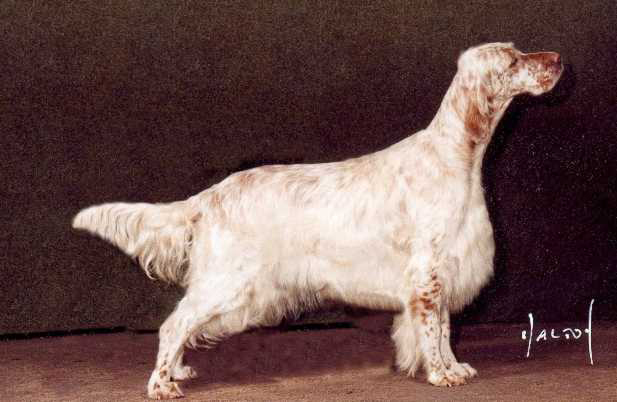 Sh Ch Ravensett Romance is also pictured above. As with her sister Susie, below, Romance had a long life and successful show career, living well into her 15th, year. She was very glamourous and many of the current Ravensett's are related to her in some way. She was Dion's Gran and is Vogue's Great Great Grandma.
Last, but by no means least is the stunning Sh Ch Ravensett Regalia. Top English Setter Puppy in 1993 'Susie' had a fantastic long show career. She won her way through all of her classes and was even shown as veteran winning stakes classes at major Championship shows. However she was also a wonderful dog to live with and enjoyed nothing more than snuggling up to you on the settee. She's still sorely missed.